The screening of the documentary "Chicas nuevas 24 horas" by Mabel Lozano will open the celebration of International Women's Day in Alfafara. This will be the outcome of the program, organized by the City Council, which also includes talks, music, magic, a cultural trip and a dinner.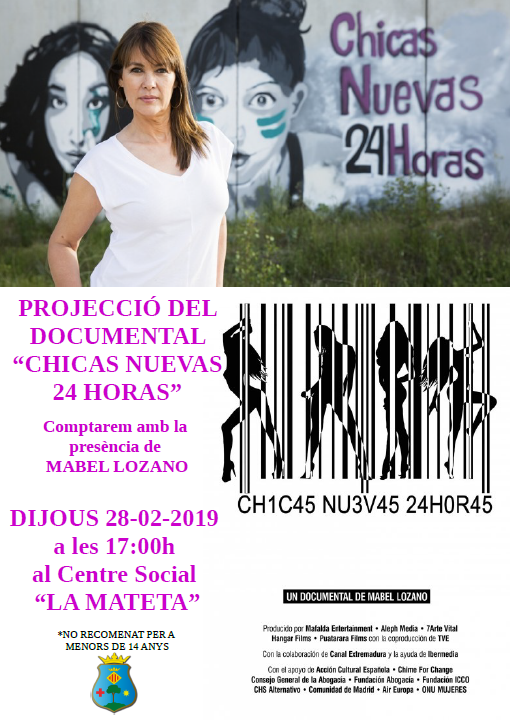 Director Mabel Lozano will be on Thursday February 28 in Alfafara for the screening and subsequent talk on the documentary "Chicas nuevas 24 horas". Lozano directed this audiovisual work, filmed in Spain, Argentina, Colombia and Peru, which addresses the business of buying and selling women and girls for sexual exploitation. At 5 pm the viewing will begin, not recommended for children under 14, at the Social Center La Mateta and the entrance will be free.
On Friday, March 1, at 7 pm, at the Social Center La Mateta, a talk on "Palestine, from a gender perspective" will be given by BDS País Valencià. On Saturday, March 2 at 4 pm, a walk will be started on La Solana, to the north of the municipality of Alfafara, and then there will be popular games. The weekend will be closed on Sunday, March 3, at 5:30 pm, with the talk "Strengthening the political action of women" by Jimena Calizaya Fabián, technique of the center Juana Azurduy, and Martina Espinosa Florez, leader of the Only Federation of Workers of Originating Peoples of Chuquisaca Bartolina Sisa of Bolivia.
On Thursday, March 7th, a talk is scheduled, at 7 pm, on "The woman in our proverbs, sayings and phrases made" by Àlex Agulló. And on Friday March 8 there will be a cultural trip to the Font de la Figuera. The trip costs 22 euros and those interested must sign up to the City Council before March 5.
The celebration of Women's Day will continue on Saturday, March 9th, with the traditional dinner of all the women of the town at the Cultural Center The Board of Trustees, where they will have to contribute a donation of 12 euros, and on Sunday, March 10, the magic and Music writes the final point to the commemoration. Thus, at 12 noon, there will be a performance by magician Hugo Aracil and singer Noa Villar and at 7 pm, the County Music School will offer the "Women's Concert". Both activities will be at the Board of Trustees.
All programmed activities, except for the trip and the dinner, are free entrance until the capacity is complete.